STONY LAKE PROJECT
Located within the Cape Ray/ Valentine Lake structural trend in Central Newfoundland
Project covers 13,025 ha and 27 kilometers of favorable trend between Sokoman's Moosehead discovery to the northeast and Marathon's Valentine Lake deposit to the southwest.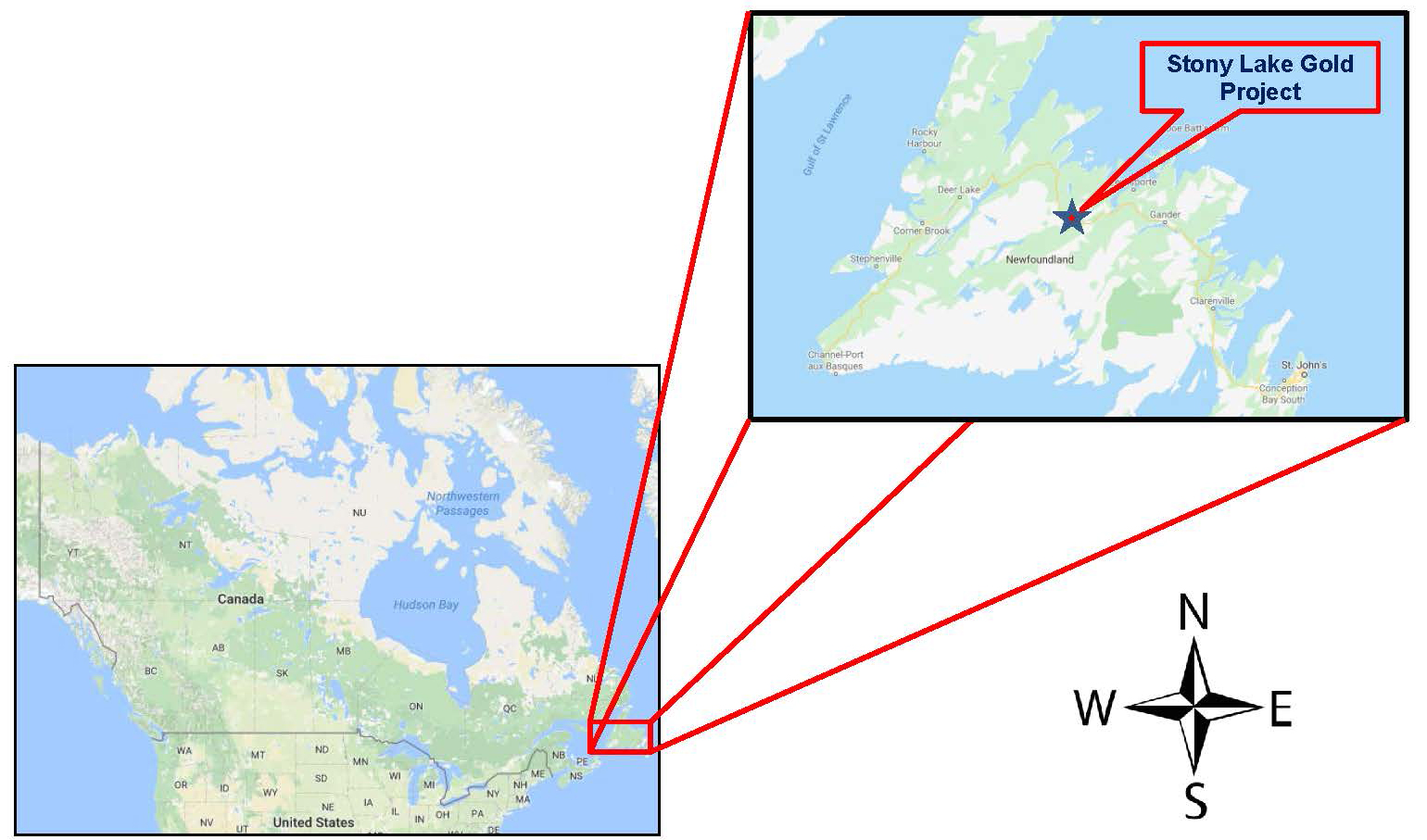 REGIONAL SETTING
Deposit Models:

Widespread low grade (0.5 to 4.0 g/t Au) mineralized pyritic sandstone, quartz veins and quartz stockwork as seen exposed in the Silurian-age Botwood Group sediments; and
A high-grade gold environment (similar to Sokoman's Moosehead and New Found Gold's Queensway
projects) in the basement rocks below the Botwood sediments.

Geology:

Located on the interpreted Cape Ray – Valentine Lake ("CRVL") structural trend.
CRVL covered by Oxidized Silurian Sedimentary rocks
Significant post-sediment felsic intrusives
METALLOGENIC SETTING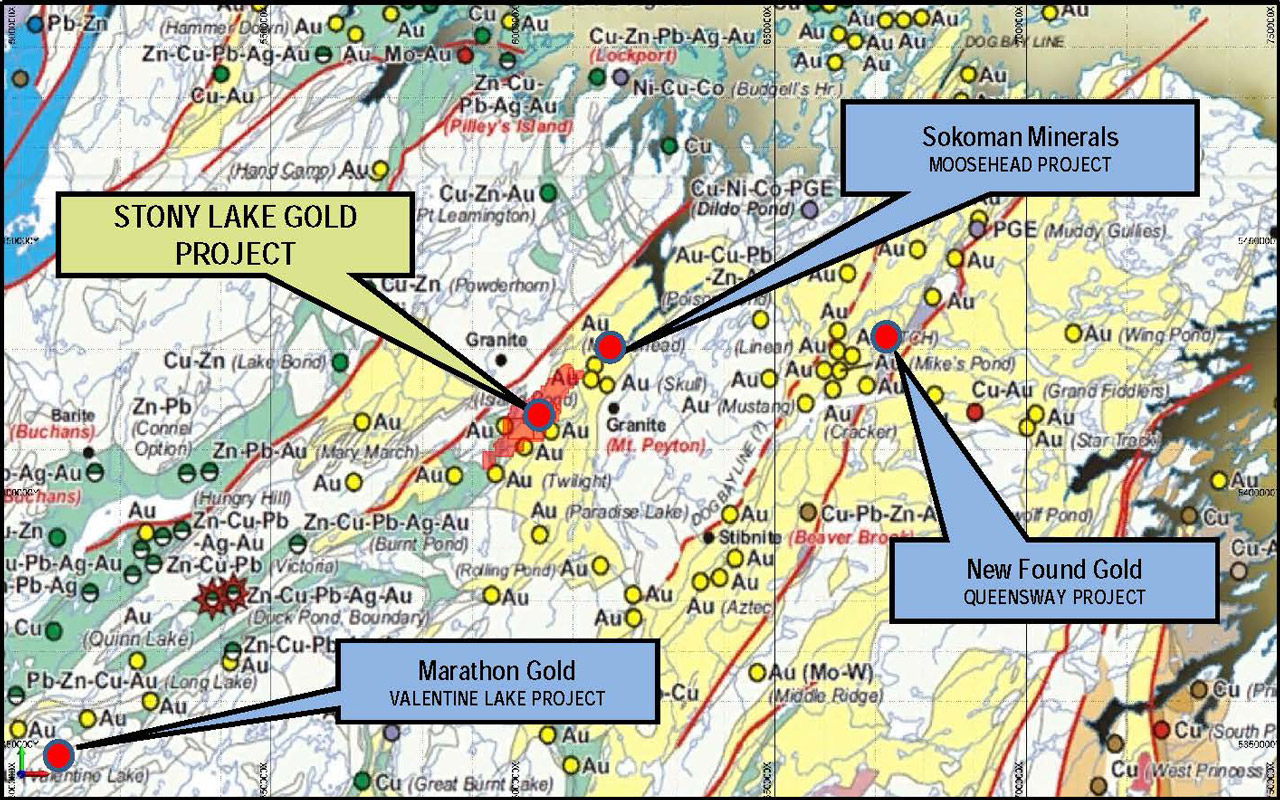 EXPLORATION DETAILS
Exploration:Exploration:

An extensive field program in 2019, focused on prospecting, mapping and sampling along with a property wide airborne magnetometer and radiometric survey to map bedrock lithologies, structural features and areas of structurally controlled potassic alteration identified numerous target areas.

Results:

Eight areas of highly anomalous to high grade gold(15.05 g/t) mineralization have been identified
The gold mineralization is hosted in quartz feldspar porphyry, pyrite and arsenopyrite bearing reduced sandstone, quartz stockworks and quartz veins.
Mineralization exhibits arsenic-antimony-molybdenum geochemical associations with high gold to silver ratios
Gold mineralization is characterized by sericite, silica, ankerite, carbonate and chlorite alteration typically as pervasive alteration and envelopes around quartz stockwork and quartz veins.
Pyrite and arsenopyrite (1-3% total sulfide) are common to the gold mineralization in all samples greater than 50 ppb gold.

g/t = grams per tonne; ppb = parts per billion
2019 GEOPHYSICAL SURVEY
The 2019 airborne survey and subsequentinterpretation clearly show that the structural trend of Sokoman's Moosehead discovery crosses onto the Stony Lake East property. This appears to be a primary basement structure, with multiple splays off it. This defines a high priority exploration target in the basement below the Botwood Group.

In addition, the interpretations indicate thatconcentration of zones of gold mineralizationdiscovered in the Botwood sediments in 2019 is along a NNE structural trend in the Botwood. Although this is a different, parallel, trend to that discussed above, the model is the same. i.e. a major structure with goldbearing fluids emanating from a basement structure depositing low grade mineralization in the Botwood.
2019 MINERALIZED ZONES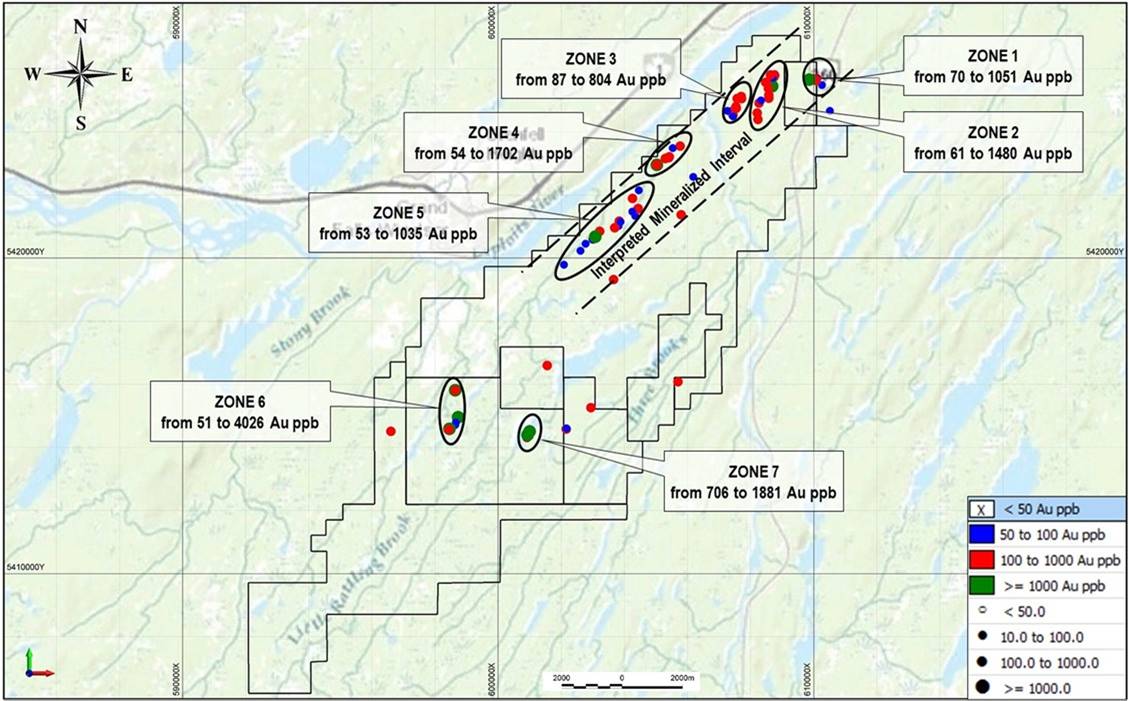 REGIONAL DISCOVERIES
The Stony Lake Project is contiguous to and covers the southwest extension of Sokoman Mineral's Moosehead high-grade gold discovery. It also lies North East of Marathon's Valentine Lake Deposit and West of New Found Gold's Queensway discovery.
Regional Significance
indicates gold potential in this portion of Newfoundland
classified as orogenic style gold setting
intersections of high-grade gold mineralization
Selected Drilling Results
Sokoman; MH-18-01 returned 11.9 m of 44.96 g/t Au (news release July 24, 2017), MH-20-86 returned 4.70 m of 18.60 g/t Au (news release July 15, 2020) MH-18-08 returned 1.05 m of 207.1 g/t Au from 8.50 m to 9.55 m and 2.28 m of 42.36 g/t Au from 33.07 to 35.35 m (Sokoman news release Aug. 28, 2018)
New Found Gold NFGC-19-01 returned 92.9 g/t Au over 19 m incl. 285.29 g/t Au over 6 m (corp. presentation 2020)
Marathon Gold; VL-20-823 returned 3.33 g/t Au over 120.0 m incld. 11.83 g/t Au over 10 m (news release July 2020)REGIONAL DISCOVERIES9
* The gold mineralization on the Moosehead property may not be indicative of the gold mineralization on the Stony Lake property
GALLERY